Friedrich Gulda Free Sheet Music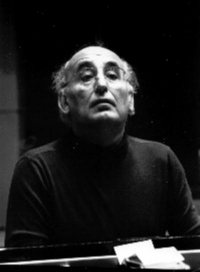 Friedrich Gulda (16 May 1930 – 27 January 2000) was an Austrian pianist who performed in both the classical and jazz fields.
Born in Vienna as the son of a teacher, Gulda began learning to play the piano from Felix Pazofsky at the Wiener Volkskonservatorium, aged 7; in 1942, he entered the Vienna Music Academy, where he studied piano and musical theory under Bruno Seidlhofer and Joseph Marx.
He won first prize at the International Competition in Geneva in 1946. Initially the jury preferred the Belgian pianist Lode Backx (b. 1922), but when the final vote was taken, Gulda was the winner. One of the jurors, Eileen Joyce, who favoured Backx, stormed out and created a minor international incident by claiming the other jurors were "nobbled" by Gulda's supporters. Gulda began going on concert tours throughout the world. Together with Jörg Demus and Paul Badura-Skoda, Gulda formed what became known as the "Viennese troika".
Although most famous for his Mozart and Beethoven interpretations, Gulda also performed the music of J. S. Bach (often on clavichord), Schubert, Chopin, Schumann, Debussy and Ravel.
From the 1950s on he cultivated an interest in jazz, performing with many Viennese musicians like Alexander Jenner, writing several songs and instrumental pieces himself and combining jazz and classical music in his concerts at times. Gulda wrote a Prelude and Fugue with a theme suggesting swing. Keith Emerson performed it on Emerson, Lake & Palmer's The Return of the Manticore. In addition, Gulda composed "Variations on The Doors' 'Light My Fire'". Another version can be found on As You Like It (1970), an album with standards such as "'Round Midnight" and "What Is This Thing Called Love?"
In 1982, Gulda teamed up with jazz pianist Chick Corea, who found himself in between the breakup of Return to Forever and the formation of his Elektric Band. Issued on The Meeting (Philips, 1984), Gulda and Corea communicate in lengthy improvisations mixing jazz ("Some Day My Prince Will Come" and the lesser known Miles Davis song "Put Your Foot Out") and classical music (Brahms' "Wiegenlied" ). In the late 1990s, Gulda organised rave parties, where he performed with the support of several DJs and Go-Go dancers.
It was this unorthodox practice that, among other things like his refusal to follow clothing conventions or scheduled concert programmes, earned him the nickname "terrorist pianist"; Gulda had a strong dislike of authorities like his alma mater, the Vienna Music Academy, the Beethoven Ring of which he was offered in recognition of his performances but which he refused. He even faked his own death followed by a resurrection party at the Vienna Konzerthaus in 1999, cementing his status as the enfant terrible among pianists. Nevertheless, Gulda is widely regarded as one of the most outstanding piano players of the 20th century. His piano students included Martha Argerich and the conductor Claudio Abbado.
Friedrich Gulda - Play Piano Play Piano Sheet Music
Advertisement
Advertisement

Please right click on the download button and select "Save Target As" or "Save Link As" to download



You can share this sheet on your Twitter or Facebook account to let your friends know too!


(3.73MB)