ERU Free Sheet Music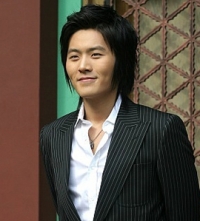 ERU (Korean: 이루) (born on July 5, 1983) is the stage name of K-Pop singer-songwriter Jo Sung Hyun.
Eru went through two years of training before making his debut as a singer in 2005. Eru's debut album included works from musicians such as Joo Young Hoon, Lee Hyun Jung (the composer of Big Mama's "Break Away"), and vocal trainer No Young Joo, who trained BoA, Fly to the Sky and Lee Soo Young. A 100-member string orchestra also participated in his debut album. The first single from his 1st album was "다시 태어나도" ("Rebirth").
Eru released his 2nd album Level II on September 16, 2006. The first single from his 2nd album, "까만안경" ("Black Glasses") which features singer Daylight, gained significant popularity among young people and topped on- and offline charts. The song would later be showered with numerous awards, including Jukeon's song of the month (October 2006) and SBS's Bonsang Award . The music video for "까만안경" was also popular among his fans, as it featured Kim Hyun Joong of SS501, Lee Young Ah and Ahn Sung Ki.
After the huge success of "까만안경", Eru released his second single "흰눈" ("White Snow"), which he wrote himself . "흰눈" was also successful, reaching #1 on various online charts and winning several awards, including Cyworld's Song of the Month (January 2007). The music video for "흰눈" was shot in Sapporo, Japan and featured Eru and entertainer Lee Hyun Ji. Aside from his own music videos, Eru appeared in female singer Magolpi's debut music video "Flight Girl", where his role was as a composer, along with six other Korean artists, including Micky YooChun of TVXQ, Kang In, Hee Chul and Shin Dong of Super Junior, Park Joon Hyung of G.o.d., and Kim Jang Hoon.
In March 2007, Eru received an offer to appear in a Japanese movie titled Three Tattoos. Eru's agency stated that the offer was quite tempting, as the movie was being directed by Sukimori Hitomi and would likely be exported overseas. However, Eru's agency also stated that Eru would reject the offer as he has yet to establish himself in Korea as an artist.
Eru released his 3rd album Eru Returns on September 19, 2007 and it became the #1 album during October 2007, selling 42,228 copies in South Korea. The lead single from this album, "둘이라서" ("Because We Are Two"), enjoyed enormous popularity, winning SBS's Bonsang Award. The music video for this song featured celebrities Ahn Sung Ki, Bong Tae Kyu and Park Joong Hoon. Eru also released "겨울나기" ("Wintering") and "마네킹" ("Mannequin")" as singles from Eru Returns. The star-studded music video cast for "겨울나기" included Eru, actress Lee So Yeon, trot singers Tae Jin Ah and Song Dae Gwan, comedians Lee Kyung Kyu and Ji Sang Ryul, actors Park Sang Myun and Kim Ja Ok, singer Kim Heung Gook, and others.
ERU - Mannequin RH Piano Sheet Music
Advertisement
Advertisement

Please right click on the download button and select "Save Target As" or "Save Link As" to download



You can share this sheet on your Twitter or Facebook account to let your friends know too!


(145.44KB)